A Formidable Force for Working Women
by Rod Mickleburgh with Donna Sacuta
Alice West was a BC union pioneer who died on September 17, 2021 at the age of 95. She devoted much of her working life to paving a better path for working women, mostly as a formidable force within the Public Service Alliance of Canada (PSAC).
During World War II, at the age of 16, Alice West joined tens of thousands of other BC women who went to work, doing industrial jobs that were normally filled by the men fighting overseas. She started work at Vancouver Plywood in 1942, operating a cut-off saw for the princely sum of 37.5 cents an hour. Despite her youth and the fact her father had been blacklisted for union organizing on the prairies, Alice West was in the forefront of a drive by the IWA to unionize the large plant. "My father believed in strong unions. It was something I breathed in quite early," she recalled. "I still have friends from that plywood plant."  In those days, union dues had to be collected individually from each member. There was no such thing as automatic dues check off, which is routine today.
After the war, men re-claimed their industrial jobs. Just about every woman who had worked so patriotically for Canada was laid off, including West.  She went to work for the Royal Bank, working long hours for little pay. Needless to say there was no union. "Anyone who mentioned a union would have been laughed at or considered someone to get rid of," she said. After three years, she left to raise her three daughters. Alice returned to work with the federal Unemployment Insurance Commission in 1966, just in time for legislation allowing federal employees to unionize. She had lost none of her union spirit.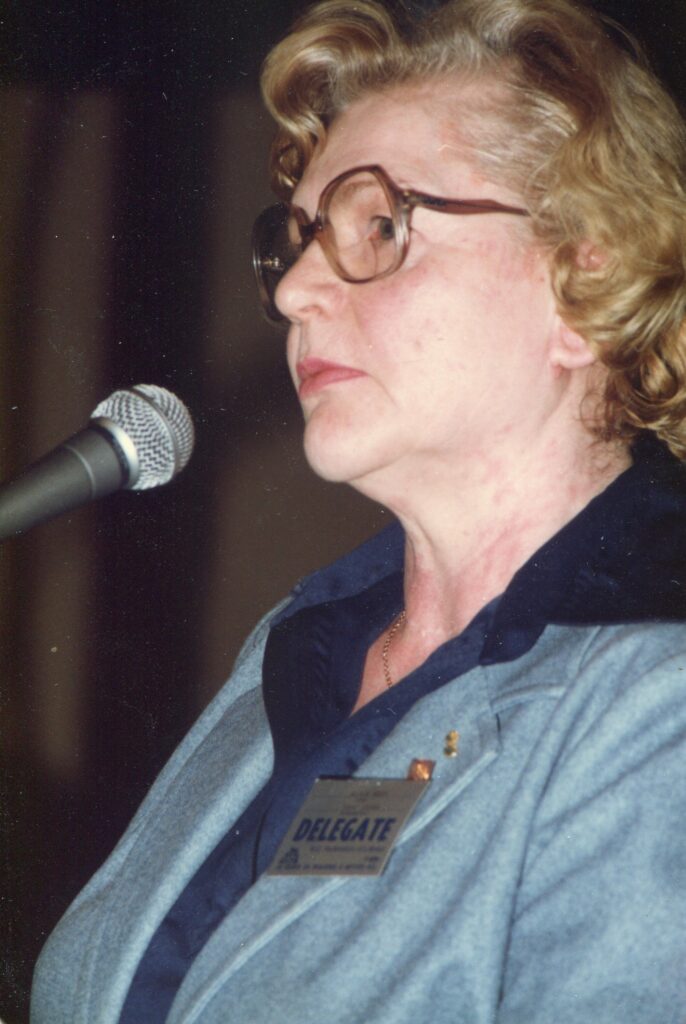 She was soon elected shop steward, local President and then Regional Treasurer of the new Public Service Alliance of Canada. In 1979, she became the first woman National Director for BC, Yukon and the Northwest Territories. That brought her to Ottawa as one of just three women on PSAC's national board of directors. Despite the union's heavy female membership, the male leadership didn't take them seriously. "When women began speaking up, the suits didn't like it," she said.
Women board members began getting together ahead of board meetings to ensure they were on the same wavelength on issues they considered important.  "Women began speaking up elsewhere, too," she said. "People were shocked. They weren't used to it."  But things began to change. PSAC began pressing issues important to its women members: equal work for work of equal value, childcare and fully paid maternity leave.
It took 20 long frustrating years, before the federal government finally agreed to equal pay for work of equal value. Salaries were adjusted and 230,000 current and former PSAC members received retroactive payments totaling $3 billion. By then Alice West was retired and cheering from the sidelines, but the settlement was a reminder of just how hard it was for unions, even in the recent past, to achieve breakthroughs that are commonplace today.
Victory came a lot quicker for another of Alice West's key issues, maternity benefits. In 1982, a year after postal workers fought a bitter 42-day strike to set the standard, PSAC negotiated its own historic contract that provided fully paid maternity benefits to its members for the first time.
Alice West had spearheaded the campaign, and she was thrilled.  But victory came at a cost. Feminism was still an ongoing issue, even in the union.Not all members were pleased. She fielded nasty calls from men, and more than a few older women members complained about a benefit they could no longer use. "The anger was visceral," she said. "I realized we hadn't done a good enough job explaining the benefit to our members."
West took early retirement in 1988, rather than continue to work under Brian Mulroney's Conservative government. That hardly slowed her down. She plunged into activism for seniors, co-founding the influential BC Federation of Retired Union Members (BC FORUM), which staged rallies, organized petitions and wrote briefs on senior's issues. She helped organize a 3-day seniors' summit in 1999 that developed into the activist group, Women Elders in Action (WE*Act).
In 2007, she appeared at a Status of Women parliamentary hearing in Ottawa, calling attention to the plight of many senior women living in poverty. She railed against the Harper government's plan to cancel funding to women's organizations in Canada.
"If the Status of Women cuts off all funding to groups like ours–and we're not the only group–this type of funding, so we can do this, so we can advocate on behalf of the people who are less fortunate, then I'm afraid we'll be backsliding, and about 20 years from now I'll come in with my cane and I'll be telling you that you've failed miserably."1
She summed up her life-long motivation in 2013: "I believe women should be considered as equals. That's all I wanted: respect, and recognition for who I am."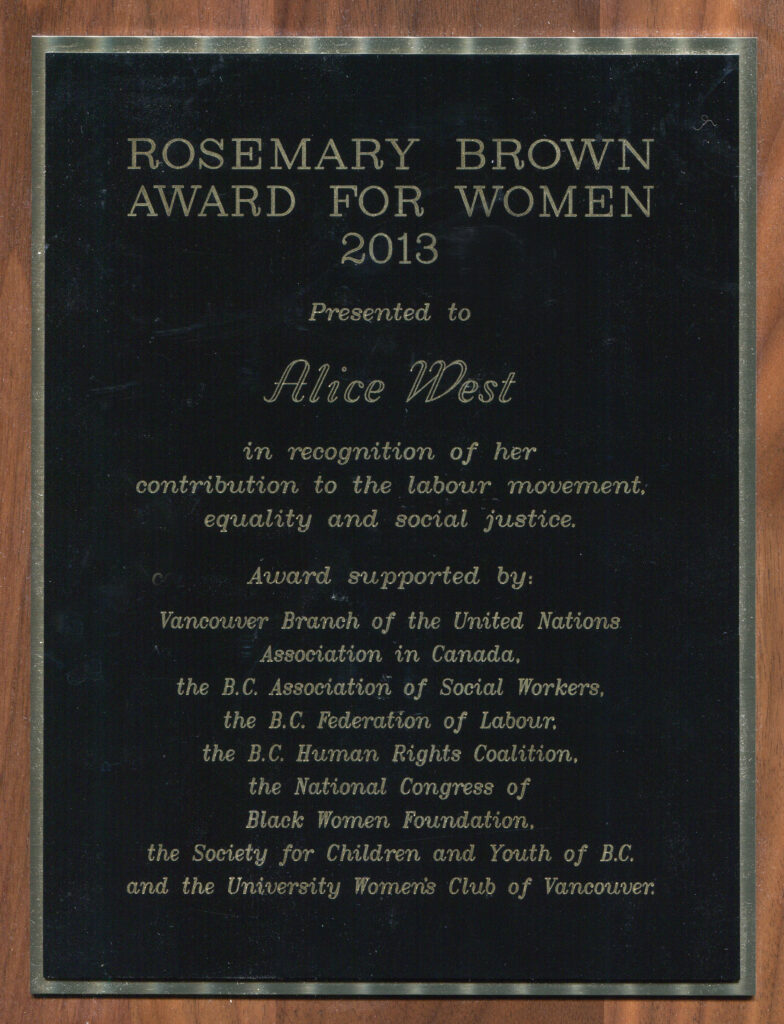 That same year, she was awarded the Rosemary Brown Award for women, as someone who had made an outstanding contribution to women in the labour movement.
See also:
Janet Nicol, "Growing Up Union and Feminist: A Profile of Alice West", Our Times, August/September 2013, 41-45.
Status of Women Committee on Feb. 22nd, 2007 https://openparliament.ca/committees/status-of-women/39-1/41/alice-west-1/?page=2[↩]