Magic and Lethal: The Asbestos Memorial
Honouring the

Victims of Asbestos Exposure
URGENT UPDATE – June 6, 2022
The BC Labour Heritage Centre and its partners in the Asbestos Memorial Project have made the difficult decision to postpone the unveiling ceremony planned for June 20th, 2022.
A new date will be announced in the near future.
This is the result of a series of delays and difficulties that had exponential impact. Despite extraordinary efforts by all involved, we have concluded that it is simply impossible to be ready for June 20th. We thank you for your understanding and apologize for any inconvenience this causes.
The Wind Wheel Mobile by Vancouver artist Douglas Taylor is a dynamic kinetic sculpture, driven only by the wind. Rich in symbolism, it is destined to become one of Vancouver's most iconic images.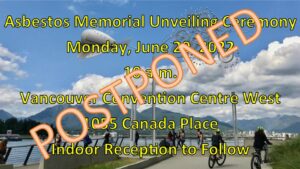 Click to view animation of Wind Wheel Mobile.The memorial will be installed on the north-west corner of the waterfront path of the Vancouver Convention Centre. This sits at the foot of the "Line of Work" installation that profiles workers killed and injured on the job. It faces Burrard Inlet, where for decades asbestos was loaded into ships for export.