27-month strike in Prince George, B.C.
A strike at the Prince George Canadian Tire store by the Retail Clerks' Union Local 1518 lasted from December 1983 until May 1986 (27 months). The central issue was union recognition.

The store opened in 1982, and the union was certified in September 1983. In December 1983, 45 union members went on strike when the store owner refused to agree to a union shop.
The timing of the strike came just a few weeks after the end of the Operation Solidarity dust-up in B.C. which had energized the local labour movement. It was also during the construction of Expo 86 when building trades unions were battling the provincial government who were ready to build Expo with non-union labour.
On March 31, 1984 a protest that attracted 370 union supporters was provoked by several cars repeatedly driving through the picket line. In the end, five union supporters were charged by police, though none were found guilty.
In October 1984, the Prince George Chamber of Commerce invited the notorious right-to-work contractor Bill Kerkhoff to town. Kerkhoff was the headline speaker at a Chamber luncheon. The event was co-sponsored by the local television station, CKPG. The labour council questioned how a media outlet could offer fair news coverage, while sponsoring an anti-union function. It issued a six-month media ban.
The labour council also compiled a list of businesses crossing the picket line, and urged members to boycott those businesses.
The strike dragged on through three bitter winters. The climate in the central interior frequently saw outdoor temperatures plunge below -20 degrees.
As the second anniversary of the strike neared, store owner Tom Steadman convinced Prince George City Council to prohibit shelters and burning barrels at the location, or "picket-line aids" as he called them. The B.C. Federation of Labour issued a province-wide boycott of Canadian Tire.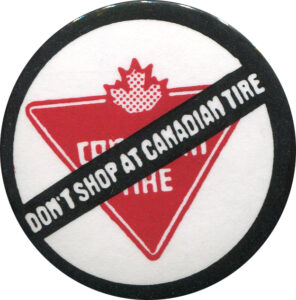 In March 1986, with only 11 of the original workers still employed, a first contract was signed. An arbitrator settled the union security issue; original union members retained their membership, new employees after ratification must join the union, those hired during the dispute were not required to join.
The Prince George store, now at a different location, remains the only unionized Canadian Tire in Canada. The workers are members of UFCW Local 1518.