Ray Haynes was head of the B.C. Federation of Labour from 1966 to 1973 and, arguably, the most influential leader in the long history of the B.C. Fed.
Excerpted from a speech by Rod Mickleburgh, November 24, 2022 to the 60th BC Federation of Labour Convention, Vancouver B.C.
I am proud to be here on this particular occasion, to tell you about a very special labour leader, someone who has been part of the B.C. labour movement, if you can believe it, for most of the past 74 years!  That's longer than Queen Elizabeth reigned over England.
I'm talking about Brother Ray Haynes, who was head of the B.C. Federation of Labour from 1966 to 1973, and, arguably, the most influential leader in the long history of the B.C. Fed.
The son of a Vancouver Police detective, Ray Haynes started his working life on the green chain at the Canadian White Pine sawmill on the Fraser River. It was there that he learned the basics of trade unionism from the IWA.
Not long after that, Brother Haynes was working as a tea blender in the wholesale division of the Hudson's Bay. Fed up with the pay and working conditions, he organized the place.  That kind of skill didn't go unnoticed, and he was hired by the Retail Wholesale and Department Store Union, where he rose to International Representative and then to Secretary Treasurer of the B.C. Federation of Labour in 1966.
It's hard to imagine today how tough it was for unions back then. It was a time when labour leaders regularly went to jail for defying court injunctions against picketing. Ray recalled, "I'd been on the job one day, and already 10 more people were in jail for contempt of court."  
In those days, labour was in almost constant warfare, strike after strike, protests seemingly every day, and an all-fight against some of the worst anti-union legislation in North America. Ray Haynes and the Federation was everywhere.
This was a time when the Federation took on every dispute as its own, rallying support for unions when they needed it and enforcing policies that remain today: respect for picket lines and hot boycotts.
When the secretary-treasurer of the B.C. Federation of Labour talked, people listened. At the same time, Brother Haynes broadened the interests of the fed beyond the immediate issues of the B.C. labour movement.
To support Cesar Chavez and his courageous campaign to organize California farmworkers, the Fed declared a boycott of non-union picked grapes in unionized supermarkets. It was the most effective such action in North America.
In 1971, he did something really remarkable. He called on union workers to stop work for 30 minutes to protest the United States' plan to test an atomic bomb on Amchitka Island in Alaska. Hard-hatted construction workers paraded through downtown Vancouver in response. Said Ray, "For the first time in North America, workers are downing tools, not over wages, not over working conditions, but because of a danger to all mankind."
But nothing highlighted the force the B.C. Federation of Labour became under Ray Haynes' leadership than labour's 4-year fight against Bill 33, one of the most anti-union laws in Canadian history. The bill created a Mediation Commission tht had the power to settle any labour dispute—private or public sector—by binding arbitration. At an emergency convention,  Federation affiliates voted overwhelmingly to boycott the Commission and it proved a total failure.. And there was constant warfare on the ground.
There was so much industrial relations turmoil, voters finally turned their back on WAC Bennett and elected B.C.'s first NDP government led by Dave Barrett, who changed the face of the province.
Haynes fought off a few internal challenges over the years but in 1973, after his seven tumultuous years at the top he stepped down. He continued to work for other unions in B.C. afterwards.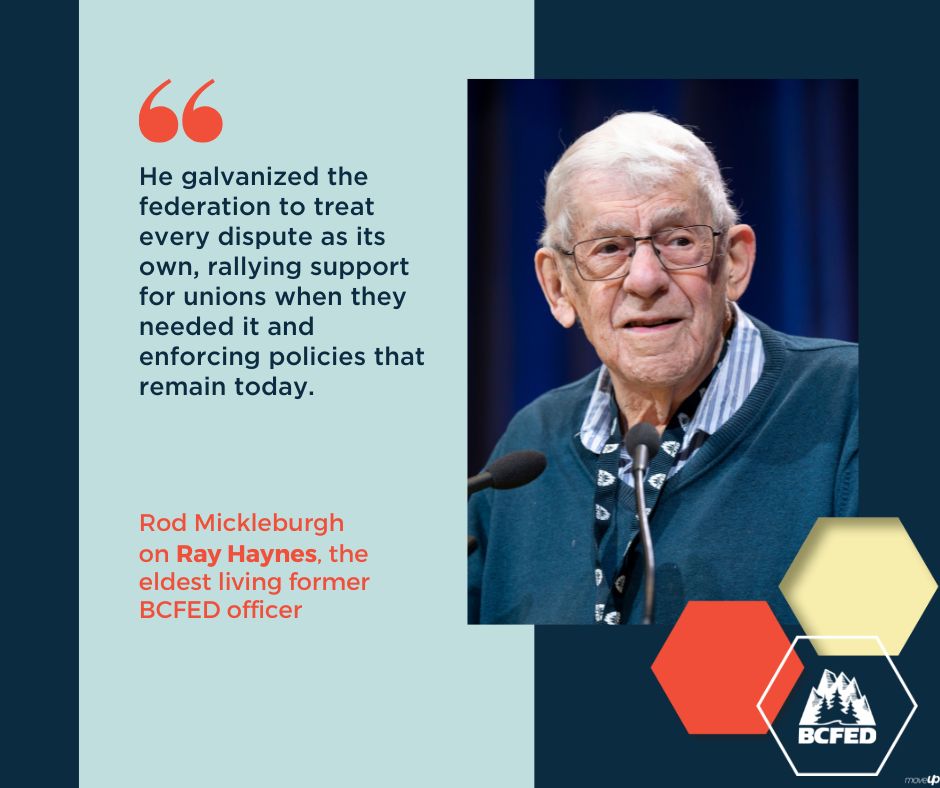 During his many years on picket lines—legal and illegal—Ray somehow managed to escape arrest. Finally, in 2012, as part of his life long commitment to environmentalism, he was among a group of protestors who blockaded a coal train headed to Roberts Bank, and was arrested. He was 84 years old, and still on the line!