There is May Day and there's the "First of May".
Let's not confuse them.
Written and researched by Donna Sacuta
Labour's May Day (sometimes called International Workers' Day) on the "First of May" has been held around the world for over 120 years. In many countries May 1 is a statutory holiday. Workers' May Days celebrate international solidarity and the long history of labour battles and victories. (The "other" May Day also takes place in May and features May Queens, dancing around a tall pole and other such merriment.)
The first May Day took place in 1886 in Europe. Its original purpose was for workers in all countries to participate simultaneously to demand the eight-hour day; essentially a one-day general strike.
In 1894 the US government declared the first Monday in September "Labour Day". They may have hoped to take the wind out of the sails of radicals, however, the dream of international solidarity on the First of May was slow to fade.
In British Columbia during the 1930s May Day parades and rallies drew thousands of people in large cities and in smaller towns. The most infamous parades took place in Vancouver during the Depression years with upwards of 15,000 citizens participating. Nanaimo and the East Kootenay coal towns of Michel and Natal also recorded instances.
"Not a hand was raised in violence, not a boo was heard"
The spectre of May Day rallies and parades stoked panic among state institutions. In 1932 the Navy brought a machine gun squadron to bolster City police forces and positioned a warship in Vancouver harbour in "what they considered adequate precautions". 1
For 7,000 citizens assembled at the Powell Street grounds, the Vancouver Sun said, it was "just a day in May". The crowd was a mix of whites, Chinese, Japanese and East Indians. They listened to speeches and sung the socialist anthem "The Internationale".
"Not a hand was raised in violence, not a boo was heard…At 7 p.m. the long grey hull [of HMCS Vancouver] slipped out of the harbour."  2
Amateur filmmaker captures Vancouverites in 1938 marching for a better world
In ensuing years, May Day parades embraced various causes including unemployment, world peace and workers' safety.
"Shot by amateur filmmaker Oscar C. Burritt, this fascinating footage shows Vancouver citizens and organizations marching in a mass May Day parade through downtown Vancouver and the West End on May 1, 1938. An estimated 5,000 to 8,000 people participated in the parade, which marked International Workers' Day.
The parade began at the Cambie Street Grounds (at Cambie and Dunsmuir) and followed the route Cambie – Hastings – Burrard – Georgia. Burritt seems to have shot his footage along West Georgia where it nears Coal Harbour and Stanley Park.
A variety of BC labour unions, political associations, ethnic and fraternal organizations, and other groups are represented, and can be identified by their signs and banners. Agitprop floats, displays, and signs reference current social conditions (including poverty, substandard housing, and high mortality in the forest industry). Some also reflect the current world situation, including the Spanish Civil War and the spread of Fascism in Europe. Of particular interest is a banner for the Mackenzie-Papineau Battalion (Canadians fighting for the Republican cause in Spain), a float for the Communist Party of Canada, and a briefly-glimpsed depiction of Nazi repression." 3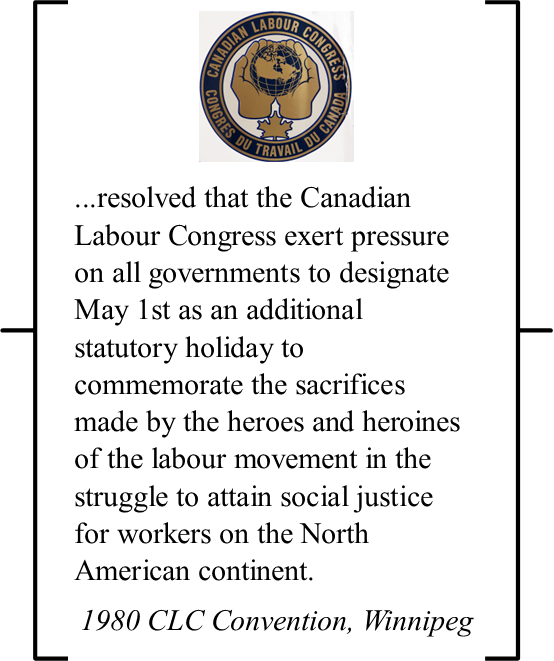 Make May Day a Statutory Holiday
Labour organizations have kept up the fight to restore the First of May to working-class glory, often calling it International Workers' Day. In 1980 the Canadian Labour Congress resolved to pressure government to declare May 1 a statutory holiday.
The Vancouver District Labour Council has continued to hold May Day parades most years.

This work is licensed under a Creative Commons Attribution 4.0 International License.
"No Disturbances Here on Sunday", The Province, May 2, 1932, 20.[↩]
"4500 Reds Demonstrate, No Disorder", Vancouver Sun, May 2, 1932, 1.[↩]
"May 1, 1938: Vancouverites march for a better world", Seriously Moving Images, May 2, 2020, https://movingimagesweb.wordpress.com/2020/05/02/may-1-1938-vancouverites-march-for-a-better-world/[↩]