Vancouver's 1932 Hunger March
"A Great Tide of Humanity Protesting
Against Inhumanity"
Researched and written by Donna Sacuta
6,000 March in Vancouver
Despite police predictions that it would be a "dismal failure", 6,000 men, women and children descended on the Powell Street grounds—now Oppenheimer Park—in Vancouver on 22 February 1932 for a "Hunger March", organized by the Communist Party of Canada (CPC) to demonstrate for better conditions for workers. They traveled by foot from Edmonds Street in Burnaby along Kingsway, others arrived via Hastings Street and even more came over the water from North Vancouver. Ninety men working on City of Vancouver sewer projects "dropped their tools to take part."
Others came from interior B.C.cities. Many were working on "relief projects" organized by municipalities to combat the effects of the Great Depression that began in 1929 and left 30% of Canadians unemployed.
Women and Children Parade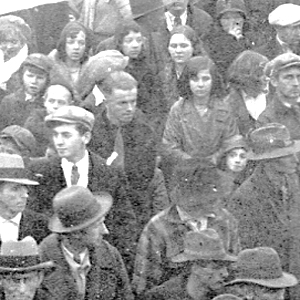 There were reports that many women and children participated in the March,  even though men and women were dealt with differently by relief legislation of the day; women were "generally left out of plans for relief provisioning". (Maxwell, p 22)
"Some of the women walked alone. Others had tots clinging to their hands as they marched. Women carried babies in their arms. Women wheeled babies before them in go-carts. An astonishing hunger parade."  (Bouchette)
Union Jack barely unfurled; hammer and sickle brazenly displayed

The Hunger March proceeded four abreast from the Powell Street grounds to the Cambie Street grounds at Cambie and Georgia Streets. The City of Vancouver insisted the protestors carry the Union Jack flag—the symbol of all British overseas territories—which they did, but the flags were "barely unfurled". Instead, at the rear of each division the flag of the Soviet Union, embossed with the hammer and sickle, was brazenly displayed.
"There has been nothing quite like it in all the city's history. These people, men and women and children, came from all parts of British Columbia, and apparently all walks of life. A great tide of humanity protesting against inhumanity."—Bouchette.
Vancouver Held Largest March
Other Hunger Marches were held in cities around the world in response to the choking unemployment of the Great Depression, and Vancouver's was the largest in Canada.
The marchers' demands were basic: unemployment insurance, work with wages and rights Canadians now consider fundamental.
"I believe that radical reconstruction of the social order is utterly essential. Their demands are fundamentally right" .—Rev. Wilberfore Cooper, rector of St James Parish of Vancouver (Anglican) (Vancouver Sun 25 Feb 1932, 2)
The marchers received solid support from the public and commentators. "If I had the guts I'd be marching there too. I'm out of a job and I didn't eat today. It's only my pride that stops me."  (Bouchette)
A delegation of marchers was appointed to take their demands to the government in Victoria. It was there that independent labour MLA Tom Uphill of Fernie attempted to suspend the rules of the legislature to permit four of the unemployed to speak. "Rules are rules," dismissed the Speaker, "And it is my job to enforce them." The unemployed were left shivering on Victoria's doorstep.
Sources:
Maxwell, Jean-François. (2013). The Vancouver Hunger March of 1932: Explaining a third period success (thesis).
"Hunger March Men May Lose Relief Jobs." The Vancouver Sun, 24 February 1932, 1.
"Get No Assurance Demands to be Met." Times Colonist, 24 February 1932, 3.
Bouchette, R.D. "Lend Me Your Ears: Hunger March." The Vancouver Sun, 23 February 1932, 6.
"Pastor's Plea for Reform." The Vancouver Sun, 25 February 1932, 2.
See also:
John Mackie. "This Week in History: 1938 Legendary Sun columnist Bob Bouchette drowns in English Bay."